5 Advantages and Disadvantages of an International School Education in Singapore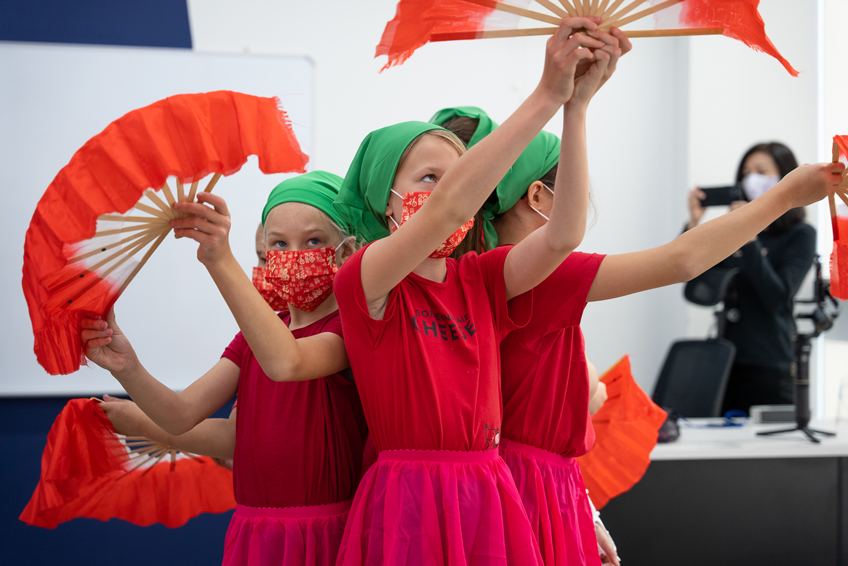 International schools are becoming increasingly popular and offer unique benefits to students. Currently, over
60
international schools in Singapore cater to the country's fast-growing expatriate community. They take in students from around the world and offer unique curricula such as the British IGCSE curriculum leading up to the Cambridge A-Levels, the International Baccalaureate, and the Advanced Placement (AP) programme.
Singapore has long been a hub for international schools. In fact, from 2012 to 2016, there was an increase of
27%
of overseas students enrolled and a total of 599,000 students enrolled.
International schools typically cater to students between the ages of 3 to 18 and they are often the only option available for expatriate students due to the strict allocation quotas for foreign students in local schools.
However, there are many benefits to attending an international school. Students can learn in an environment where they obtain academic and cultural knowledge from many different countries around the world. They also gain valuable insight from living or being around other ex-pat families of different nationalities and cultures. International schools also often put an emphasis on holistic development, ensuring students learn life skills to equip them for a wide array of professional development opportunities internationally.
5 Advantages of International School Education
Here are some of the benefits often associated with studying in an international school.
1. Learning languages
One of the benefits of studying at international schools is the opportunity to develop language skills. Many schools offer an array of programs to teach languages beyond English, such as German, French, Spanish, Chinese, and more.
2. Opportunities for career development and global citizenship
International schools invest in their teachers by hiring the best talent in the world across a variety of subjects including Mathematics, History, Science, Social Studies or Geography.
An international school will also typically use a student-led learning approach. This process allows the educator to base their teaching on the student's interest and their existing knowledge and understanding. The goal of this teaching style is to enable students to take ownership of their education and develop a love for learning.
3. International curriculum
At an international school, the educational curriculum is usually accredited and internationally recognized. This makes it much easier for students to transfer to a school in another country to complete their studies or apply to global universities. Their curriculum will be recognized by other international schools around the globe.
4. A wide range of extracurricular activities
Another benefit to international schooling is learning new cultures and trying a wide selection of extracurricular activities. International schools offer a variety of activities such as sports, foreign language lessons, and a number of artistic activities such as photography, dance, art, and music.
The broad selection of these activities enables students to explore their interests, shape their curiosity about the world and hone their creativity. In addition to extracurricular classes, international schools will offer opportunities such as community service, volunteering, and field trips to allow students to experience life outside of the classroom.
5. Faculty and staff that offer a global perspective
International schools hire faculty from around the world. Having a global perspective can give students a broader view and perspective of their life after university. For example, many students take advantage of their international connections and form an affinity for helping others outside their local community due to their cross-cultural understanding. This can include getting into international business, donating to charities internationally, or exploring jobs outside of their native region. Having a global perspective allows students to think bigger and use their understanding of different cultures to be informed, global citizens.
5 Disadvantages of International School Education
Although there are plenty of benefits of studying in an international school, there are a few drawbacks that come along with it.
1. Expensive school fees
One of the biggest disadvantages to studying at an international school is its expensive school fees. Parents will have to take into account the tuition fees, language support fees, activity fees, transportation fees, uniform fees, examination fees, school development fees, room and board in some cases, and other costs associated with sending your child to an international school. Parents in some cases may also not be able to take advantage of subsidised fees in local schools.
The good news is these fees don't go to waste. International schools use these fees to hire international teachers and staff, top-notch facilities, high-quality extracurricular activities, and teach a global curriculum that does not only focus on getting top grades and learning everything from books.
2. Locals may not be eligible to enrol in international schools
Singaporean citizens looking to enrol in the Foreign System School (FSS) or international schools in Singapore must receive approval from the Ministry of Education. The MOE evaluates each student application on a case-by-case basis. In addition, the application process takes about 2 to 4 weeks and sometimes up to 8 weeks before the MOE provides their decision.
3. Children may not learn the local language
Many international schools teach their curricula in English so that all students from different nationalities may connect and develop their English skills. However, this can mean that students aren't as familiar with the local language and culture of the country they are living in.
4. Uncertainty after graduation
Once your child graduates from an international school, finding a job could be complicated. Your child will be well-equipped with the practical skills and academic knowledge to add value to any work environment. If they want to go abroad, they may have fewer connections to land their first job and have to learn to fit in with the new culture. Due to their experiences mainly focused on interacting with diverse nationalities in international schools, they may have to fit into a more homogenous culture when they choose to work in a local company.
Either way, international schools provide a broader educational experience beyond just the classroom experience. The classes expand your child's horizons and train them to be independent and creative. This will prepare them for a future as an informed global citizen. Your child will hone the creativity to think for themselves and develop career skills to stand out among other job applicants. Studying in an international school may also provide your child with global connections beyond their native country.
5. Children may have fewer local friends
While your children will have a better understanding of a wide variety of cultures, nationalities, and languages that allows them to learn and appreciate the differences in culture, they may also lose out on the experience of interacting with locals. This bubble might lead to children not understanding and appreciating the culture of the host nation they are living in.
Conclusion
Before sending your children abroad to an international school in Singapore, parents should consider whether the education goals fit in with your child's needs, personality, and learning style.
offers a world-class education based on an internationally recognised curriculum that helps your children develop a lifelong love of learning and an international cross-cultural perspective.