Home
> Curriculum > Bilingual Primary
Bilingual Primary
The Invictus Chinese-English Bilingual Programme is offered to primary school students from Years 1-6 at the Centrium campus. It is designed for both native and non-native Chinese students.


Built on the Cambridge Primary Curriculum

Cambridge Primary is an international education programme, typically for young learners aged 5 to 11 years and is used in primary schools around the world. It develops young learners who are confident, responsible, reflective, innovative and engaged.

The Cambridge Primary Curriculum is founded on the values of the University of Cambridge and the best practice in schools. Each framework for English, Mathematics, and Science is designed to engage learners in an active and creative learning journey while providing a comprehensive set of progressive learning objectives. The objectives detail what the learner should know or what they should be able to do in each year of primary education. The curriculum provides a structure for teaching and learning and a reference against which learners' ability and understanding can be checked. The Cambridge Primary Curriculum promotes an inquiry-based approach to learning to develop thinking skills and encourage intellectual engagement.



Assessment and Instruction
Before enrolling in the bilingual immersion programme, each child will be assessed to check their current level of Chinese and English skills. This ensures that teachers have a good understanding of the entry point for their class.
The 4 key aspects for learning Chinese effectively are:
Efficient Literacy: Exposure to basic language learning content

Vocabulary Learning: Focus on the most frequently used words

Early Reading: Develop reading habits and abilities

Picture Books: Expand vocabulary through different themed storybooks
Other than the Mandarin language, curriculum subjects taught in Chinese include Art, Music, and Physical Education. Beyond that, we teach integrated Chinese lessons which include speech and drama, Chinese culture, and reading programmes. English is the primary medium for Math and Science lessons.
The unique point of the Bilingual Programme is our semi-immersive model, where students get daily high exposure to Chinese. We conduct Chinese language lessons on a daily basis and have our unique Integrated Chinese Programme (ICP) which is aimed at using the Chinese Language as a medium to develop students in their thinking skills and 21st-century competencies.
The ICP also involves exposing students to different aspects of Chinese learning, which include language interest, Chinese culture, drama and expressions, creative reading, and using Chinese in the acquisition and application of skills such as communication, collaboration, and problem-solving.
Apart from that, PE, Art and Music lessons are also conducted in Mandarin. This ensures that 60% of curriculum time involves Chinese learning or Mandarin instruction, and this reduces as the child grows with us to 40% by Year 5 and 6. (The rationale for this reduction is because we believe that as the child learns with us, the child would have gained higher proficiency in the language and that Chinese would by then be a more natural part of their lives, and they would be interacting with their teachers and peers in school more frequently in the language)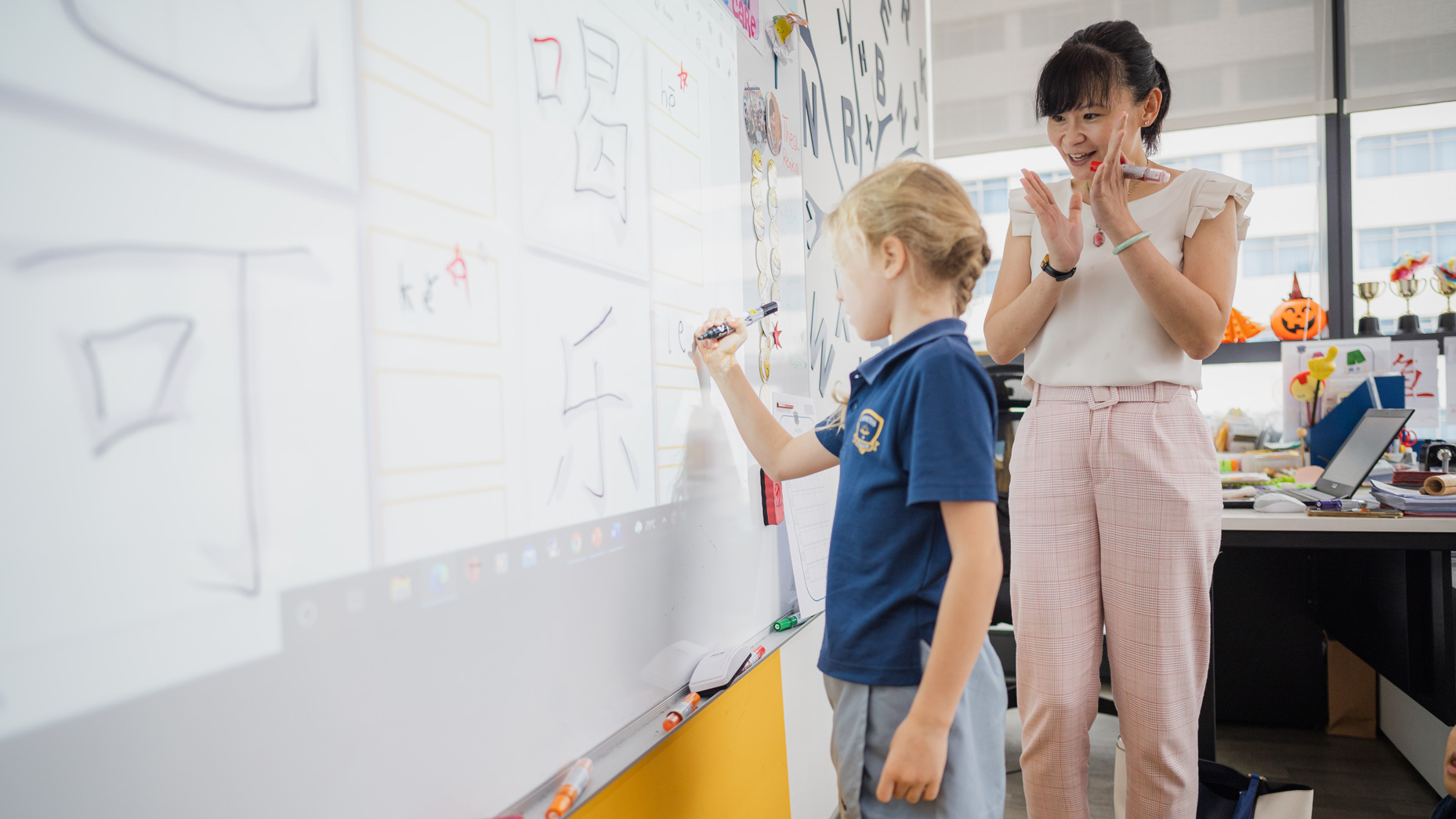 Benefits of Bilingual Education
Our bilingual immersion curriculum develops each child's listening, speaking, reading, and writing skills in both languages. Research has shown that bilingual immersion also stimulates cognitive growth and fine motor skills, and teaches children to think creatively and critically.
With our qualified teachers at Invictus, this dual language programme represents a golden opportunity to setyour child on the path to becoming confident, fluent bilingual speakers, and bicultural world citizens.
Speak to our admissions team or book a tour today and learn more about our Chinese-English Bilingual Education Programme.